Brian Negus first Australian inductee to ITS Congress Hall of Fame
SINGAPORE — Brian Negus, ITS Australia Ambassador and Chairman of CICA Group, became the first Australian inducted to the Intelligent Transport Systems (ITS) World Congress Hall of Fame this week at the 26th ITS World Congress in Singapore.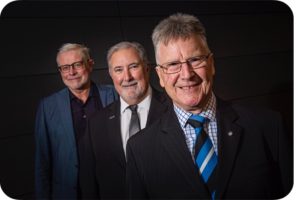 At the opening ceremony of each annual ITS World Congress three individuals are honoured with the Hall of Fame award, one each from the Asia Pacific, American and European regions. Negus was inducted to the Hall of Fame alongside Jim Barbaresso of the United States and Svend Tøfting of Denmark.
The annual award recognises industry professionals who personify the highest standards of leadership and help to drive the ITS industry forward.
"I am deeply honoured to be recognised by my international ITS colleagues. However, I see this as much more than a personal award. I firmly believe that this award recognises the leading role that Australia has played for many years in advancing the adoption of smart technologies to improve transport", said Negus.
"Vehicle technology is now at the forefront of the mobility, safety and environmental improvements that we in the industry have long been seeking".
Hajime Amano, Secretary-General of ITS Asia Pacific said "With a career spanning more than 50 years, Brian Negus is one of Australia's most respected and influential transport and mobility leaders."
A director of ITS Australia since 2007 and president for six years, Negus is highly regarded for his long-standing strong contributions to transport, his commitment to intelligent transport initiatives, and his role in advocating for, and delivering ITS solutions in the transport sector.
Negus represents ITS Australia on the ITS World Congress Board, chaired the organising committee for the 2016 ITS World Congress held in Melbourne, and is chair of the ITS Australia Policy Committee. Negus's career spans both the government and private sectors including General Manager Public Policy with the Royal Automobile Club Victoria (RACV); Deputy Director of Public Transport in Victoria; Regional Director of VicRoads; and General Manager of Port Planning at the Melbourne Port Corporation.
For his distinguished career Negus was awarded the Max Lay Lifetime Achievement Award in 2018 and named Ambassador and honorary life member.